Home Humidifiers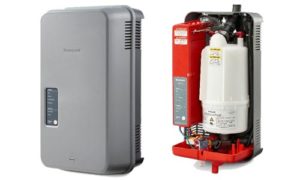 A humidifier is a device that increases moisture, also known as humidity in a single room or an entire building. In the home, humidifiers are commonly used to humidify a single room, while whole-house or furnace humidifiers, which connect to a home's heating/air system, provide humidity to the entire house.
iComfort Heating and Air Conditioning provides whole home humidification.
Whole Home Humidifiaction
Honeywell Advanced Electrode Humidifier
Performance. Flexibility. Speed.
The industry's only duct- or wall-mountable steam option for successful install
Smallest footprint on the market for flexible, one-person installation
Intuitive self-diagnostics for quick service and maintenance
Easy-access wiring with push-in terminals
Pre-salted canister for faster startup and checkout; hinged for easy maintenance
Auto-adaptive technology for changing water conditions
Ideal for different size spaces; 11 or 22 gallons-per-day output
Works with Honeywell VisionPRO® 8000, Prestige®IAQ thermostat and Lyrica's thermostat
Includes HumidPRO's digital humidity control
Controllable via the Total Connect Comfort app or Lyrica's app
Part of the Honeywell Whole-Home Comfort Solutions portfolio
5-year warranty
Aprilaire Humidifier Model 800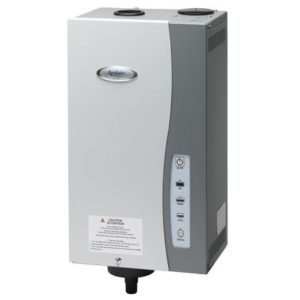 The Aprilaire Model 800 Humidifier is a steam humidifier designed for home applications where evaporative units are less practical.
The Aprilaire Model 800 Humidifier is a whole-home solution that helps you achieve total comfort through humidity control. As a steam model, the 865 complements non-forced air heating sources and other specialty heating systems. It is installed by a local HVAC professional.
Accommodates crawl spaces, attics and areas of the country with milder winters and non-forced air heating.
Provides humidity to the largest of homes (up to 6,200 square feet).
Features truly automatic control but can be installed in manual mode as well.
Runs independently of your HVAC system to accommodate larger homes (up to 6,200 square feet)
Delivers optimum levels of humidity control with the Automatic Digital Humidifier Control.
Performs quietly and with simple maintenance. You only need to replace the canister.
Has a capacity of 11.5, 16.0, 20.5, 23.3, and 34.6 gallons per day, depending on electrical draw.
Uses cold water, which may be hard, soft or softened.
Recent Articles
How to Find the Right Method For Heating Your Home
When most people consider home heating, they think of a furnace and assume that it is the basic way everyone heats their house. However, iComfort Heating and Air Conditioning can show you that there […]
Get a Pro for San Fernando Valley Heating and Furnace Repair
Thinking of upgrading or improving your furnace or need San Fernando Valley furnace repair? Hiring a good San Fernando Valley home improvement contractor may prove to be a wise move. The least you'd […]