Thermostat Zoning Systems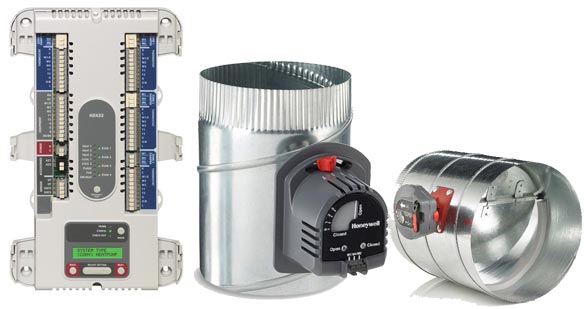 What is a Zoning System?
Unlike a traditional HVAC system with one thermostat to control the heating and cooling throughout the entire house, a zoning system allows a homeowner to control the temperatures for various rooms of the home independently. One thermostat can be somewhat ineffective, because the different floors and areas of your home may have several factors that affect the temperatures.
Having multiple thermostats instead of just one allows homeowners to direct the heated or cooled air where it's most needed. A zoning system communicates with the thermostats, opening and closing dampers installed within your home's ductwork.
The Benefits of Zoning Systems for Your Home
The types of homes that can benefit from a zoning system include those with multiple levels or finished attics or basements, a new addition (usually built on a concrete slab or over the garage, for instance), and homes with larger floor plans. Or, if some of the rooms in your home have large windows or even an entire wall of windows, zoning systems can help regulate the temperatures in these spaces.
Some of the other benefits of a zoning system include:
Increase energy efficiency.
Homeowners can see an increase in their home'ss energy efficiency with a zoning system.
According to the Department of Energy, the average savings you can see in your energy bills is around 30%!
Recent Articles
How to Find the Right Method For Heating Your Home
When most people consider home heating, they think of a furnace and assume that it is the basic way everyone heats their house. However, iComfort Heating and Air Conditioning can show you that there […]
Get a Pro for San Fernando Valley Heating and Furnace Repair
Thinking of upgrading or improving your furnace or need San Fernando Valley furnace repair? Hiring a good San Fernando Valley home improvement contractor may prove to be a wise move. The least you'd […]